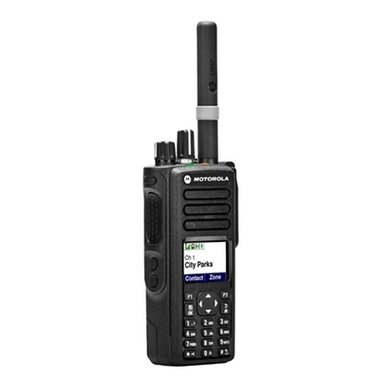 MOTOTRBO™ DP4800/4801e
The fully-equipped radio provides unparallelled voice and data traffic services with CP+ and LCP systems.
It is made to withstand demanding conditions, and its enclosure rating is IP57. It has a 5-line full colour display with day and night modes, full keyboard and best-in-class sound quality. Integrated GPS and Bluetooth are available as options.
In addition, it operates in both analogue and digital modes.
The DP4000e Series is designed for the skilled professional who refuses to compromise.



Integrated accelerometer for optional Man Down
Bluetooth® 4.0
Indoor location tracking
Multi-constellation GPS for increased location accuracy
Integrated Wi-Fi
Over-the-air software updates
Enhanced audio quality
Improved expandability
Better battery life (up to 28 hrs)
Better range
Better waterproofing
(IP68)
All articles
+
Show all datafields
-
Hide datafield
| Choose amount | | | | |
| --- | --- | --- | --- | --- |
| | DEMO-MO162901 | MOTOTRBO™ DP4800/4801e | Portable Radios | Portable |
| Choose amount | | | | |
| --- | --- | --- | --- | --- |
| | DEMO-MO162901 | MOTOTRBO™ DP4800/4801e | Portable Radios | Portable |
Type of product
Portable Radios
Operating environment
Portable