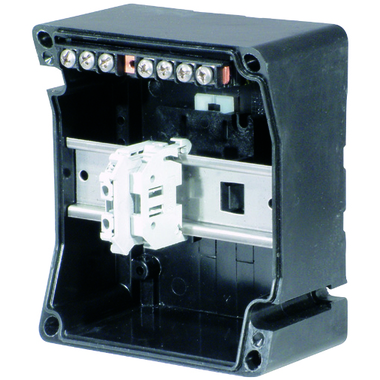 GHG731 11 Terminal strip enclosure Exe
GHG731 11 is a compact and easy to install durable terminal strip enclosure.
Dimensions: 120(w) x 140(h) x 90(d)
The enclosure is strong and durable GRP (glass-reinforced polyester)
Cover screws and terminal strip: 316L acidproof steel
Rail: Snap-On (=easy wire connection)
Terminal strips: Screw or spring connectors
Use temperature: -55° ? +55°C
Enclosure rating: IP66
International approvals, ATEX,IECEx (by request TR-CU,CSa etc.)
Certified and installation-ready terminal strip enclosures are supplied ATEX-certified with terminal strips and cable glands or closure plugs.
In addition to the catalogue versions, an essential part of our product/delivery programme is custom applications.
GHG731 is excellently suited as a compact connection box for diverse industrial sites.
Process/property electrical systems and automation.
Wood processing industry, chemical industry, petrochemical/offshore, shipbuilding etc.
Equipment manufacturers
Excellent choice for explosive atmosphere sites, gas Ex(G) and/or dust Ex(D).
Below is a list of only a small part of the GHG73111 product versions/range.

All articles
+
Show all datafields
-
Hide datafield
| Choose amount | | | |
| --- | --- | --- | --- |
| | SFCE081485 | GHG73111/4M25/1-16/PE-KISKO 2,5mm² 2GD Exe | Terminal boxes |
| | SFCE151407 | GHG73111/4M20/1-16/PE-KISKO 2,5mm² 2GD Exe | Terminal boxes |
| Choose amount | | | |
| --- | --- | --- | --- |
| | SFCE081485 | GHG73111/4M25/1-16/PE-KISKO 2,5mm² 2GD Exe | Terminal boxes |
| | SFCE151407 | GHG73111/4M20/1-16/PE-KISKO 2,5mm² 2GD Exe | Terminal boxes |
GHG73111/4M25/1-16/PE-KISKO 2,5mm² 2GD Exe
Type of product
Terminal boxes
GHG73111/4M20/1-16/PE-KISKO 2,5mm² 2GD Exe
Type of product
Terminal boxes