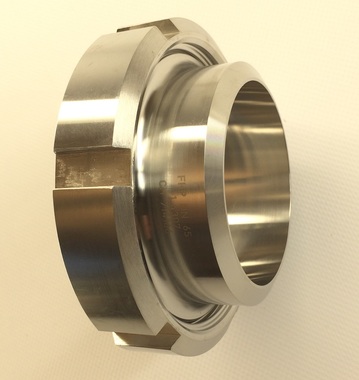 MV DIN11851 Sight glass assembly with cover screw
Welded sight glass assembly with cover screw.
The MV sight glass assembly is excellently suited for use as a sight glass in bioreactors, diverse process tanks, agitators and pipelines.
Applications include food industry (breweries, dairies), pharmaceutical industry, chemical industry etc.
Size: DN40 ... DN150.
Pressure: PN6 ( >6bar special version, ask)
Temperature: 280°C (Check gasket & glass)
Materials: 1.4307, 1.4571,1.4404
Glass: Soda-Lime, Boro
Gaskets: Perbunan, EPDM, PTFE, Viton, Silicone
Also suitable for explosive atmospheres (ATEX). No ignition source inside.
All articles
+
Show all datafields
-
Hide datafield
| Choose amount | | |
| --- | --- | --- |
| | SFPA60500624660 | MV50 NÄKÖLASI 1.4404/SO TÄY, PN6,1.4404/1.4307,PERB-C44 |
| | SFPA60650624660 | MV65 NÄKÖLASI 1.4404/SO TÄY, PN6,1.4404/1.4307,PERB-C44 |
| | SFPA60800624660 | MV80 NÄKÖLASI 1.4404/SO TÄY, PN6,1.4404/1.4307,PERB-C44 |
| | SFPA61000624660 | MV100 NÄKÖLASI 1.4404/SO TÄY, PN6,1.4404/1.4307,PERB-C44 |
| | SFPA61250624660 | MV125 NÄKÖLASI 1.4404/SO TÄY, PN6,1.4404/1.4307,PERB-C44 |
| | SFPA60500614630 | MV50 NÄKÖLASI 1.4404/BO TÄY, PN6,1.4404/1.4307,EPDM-C44 |
| | SFPA60650614630 | MV65 NÄKÖLASI 1.4404/BO TÄY, PN6,1.4404/1.4307,EPDM-C44 |
| | SFPA60800614630 | MV80 NÄKÖLASI 1.4404/BO TÄY, PN6,1.4404/1.4307,EPDM-C44 |
| | SFPA61000614630 | MV100 NÄKÖLAS 1.4404/BO TÄY, PN6,1.4404/1.4307,EPDM-C44 |
| | SFPA61250614630 | MV125 NÄKÖLASI 1.4404/BO TÄY, PN6,1.4404/1.4307,EPDM-C44 |
| | SFPA61500614630 | MV150 NÄKÖLASI 1.4404/BO TÄY, PN6,1.4404/1.4307,EPDM-C44 |
| Choose amount | | |
| --- | --- | --- |
| | SFPA60500624660 | MV50 NÄKÖLASI 1.4404/SO TÄY, PN6,1.4404/1.4307,PERB-C44 |
| | SFPA60650624660 | MV65 NÄKÖLASI 1.4404/SO TÄY, PN6,1.4404/1.4307,PERB-C44 |
| | SFPA60800624660 | MV80 NÄKÖLASI 1.4404/SO TÄY, PN6,1.4404/1.4307,PERB-C44 |
| | SFPA61000624660 | MV100 NÄKÖLASI 1.4404/SO TÄY, PN6,1.4404/1.4307,PERB-C44 |
| | SFPA61250624660 | MV125 NÄKÖLASI 1.4404/SO TÄY, PN6,1.4404/1.4307,PERB-C44 |
| | SFPA60500614630 | MV50 NÄKÖLASI 1.4404/BO TÄY, PN6,1.4404/1.4307,EPDM-C44 |
| | SFPA60650614630 | MV65 NÄKÖLASI 1.4404/BO TÄY, PN6,1.4404/1.4307,EPDM-C44 |
| | SFPA60800614630 | MV80 NÄKÖLASI 1.4404/BO TÄY, PN6,1.4404/1.4307,EPDM-C44 |
| | SFPA61000614630 | MV100 NÄKÖLAS 1.4404/BO TÄY, PN6,1.4404/1.4307,EPDM-C44 |
| | SFPA61250614630 | MV125 NÄKÖLASI 1.4404/BO TÄY, PN6,1.4404/1.4307,EPDM-C44 |
| | SFPA61500614630 | MV150 NÄKÖLASI 1.4404/BO TÄY, PN6,1.4404/1.4307,EPDM-C44 |
MV50 NÄKÖLASI 1.4404/SO TÄY, PN6,1.4404/1.4307,PERB-C44
MV65 NÄKÖLASI 1.4404/SO TÄY, PN6,1.4404/1.4307,PERB-C44
MV80 NÄKÖLASI 1.4404/SO TÄY, PN6,1.4404/1.4307,PERB-C44
MV100 NÄKÖLASI 1.4404/SO TÄY, PN6,1.4404/1.4307,PERB-C44
MV125 NÄKÖLASI 1.4404/SO TÄY, PN6,1.4404/1.4307,PERB-C44
MV50 NÄKÖLASI 1.4404/BO TÄY, PN6,1.4404/1.4307,EPDM-C44
MV65 NÄKÖLASI 1.4404/BO TÄY, PN6,1.4404/1.4307,EPDM-C44
MV80 NÄKÖLASI 1.4404/BO TÄY, PN6,1.4404/1.4307,EPDM-C44
MV100 NÄKÖLAS 1.4404/BO TÄY, PN6,1.4404/1.4307,EPDM-C44
MV125 NÄKÖLASI 1.4404/BO TÄY, PN6,1.4404/1.4307,EPDM-C44
MV150 NÄKÖLASI 1.4404/BO TÄY, PN6,1.4404/1.4307,EPDM-C44