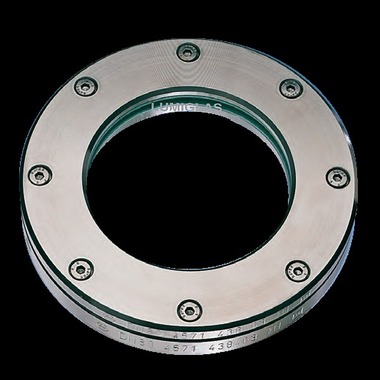 Round sight glass assembly for unpressurised applications
Lightweight sight glass assembly with DIN28120-compliant viewing opening.
The assembly is comprised of a welded body flange and connected accessories, glass, gaskets and bolts.
Diverse applications in diverse process industry, e.g. reactors, tanks etc.
Flange material 1.4571
Glasses: SODALIME (150°C), BORO (280°C)
Gaskets: C4400, EPDM, VITON, PTFE
Pressure: Unpressurised
Size: DN100 ... DN300
Optional accessories: Wiper (SW1), Cleaning nozzle (SPR)
Material certificates available for order.
Also suited for explosive atmospheres, no ignition source inside.
All articles
+
Show all datafields
-
Hide datafield
| Choose amount | | |
| --- | --- | --- |
| | PA300500005 | DIN28120/NP-050 NÄKÖLASI TÄY, 1.4571/1.4571,BORO,A2,C-44 |
| | PA300800005 | DIN28120/NP-080 NÄKÖLASI TÄY, 1.4571/1.4571,BORO,A2,C-44 |
| | PA020637300 | DIN28120/NP-100 NÄKÖLASI TÄY, 1.4571/1.4571,SODALIME,A2,C-44 |
| | PA0206000242 | DIN28120/NP-100 NÄKÖLASI TÄY, 1.4571/1.4571,BORO,A2,C-44 |
| | PA020637400 | DIN28120/NP-125 NÄKÖLASI TÄY, 1.4571/1.4571,SODALIME,A2,C-44 |
| | PA0206000294 | DIN28120/NP-125 NÄKÖLASI TÄY, 1.4571/1.4571,BORO,A2,C-44 |
| | PA020637500 | DIN28120/NP-150 NÄKÖLASI TÄY ,1.4571/1.4571,SODALIME,A2,C-44 |
| | PA020637600 | DIN28120/NP-200 NÄKÖLASI TÄY, 1.4571/1.4571,SODALIME,A2,C-44 |
| | PA302000000 | DIN28120/NP-200 NÄKÖLASI TÄY, 1.4571/1.4571,BORO,A2,C-44 |
| Choose amount | | |
| --- | --- | --- |
| | PA300500005 | DIN28120/NP-050 NÄKÖLASI TÄY, 1.4571/1.4571,BORO,A2,C-44 |
| | PA300800005 | DIN28120/NP-080 NÄKÖLASI TÄY, 1.4571/1.4571,BORO,A2,C-44 |
| | PA020637300 | DIN28120/NP-100 NÄKÖLASI TÄY, 1.4571/1.4571,SODALIME,A2,C-44 |
| | PA0206000242 | DIN28120/NP-100 NÄKÖLASI TÄY, 1.4571/1.4571,BORO,A2,C-44 |
| | PA020637400 | DIN28120/NP-125 NÄKÖLASI TÄY, 1.4571/1.4571,SODALIME,A2,C-44 |
| | PA0206000294 | DIN28120/NP-125 NÄKÖLASI TÄY, 1.4571/1.4571,BORO,A2,C-44 |
| | PA020637500 | DIN28120/NP-150 NÄKÖLASI TÄY ,1.4571/1.4571,SODALIME,A2,C-44 |
| | PA020637600 | DIN28120/NP-200 NÄKÖLASI TÄY, 1.4571/1.4571,SODALIME,A2,C-44 |
| | PA302000000 | DIN28120/NP-200 NÄKÖLASI TÄY, 1.4571/1.4571,BORO,A2,C-44 |
DIN28120/NP-050 NÄKÖLASI TÄY, 1.4571/1.4571,BORO,A2,C-44
DIN28120/NP-080 NÄKÖLASI TÄY, 1.4571/1.4571,BORO,A2,C-44
DIN28120/NP-100 NÄKÖLASI TÄY, 1.4571/1.4571,SODALIME,A2,C-44
DIN28120/NP-100 NÄKÖLASI TÄY, 1.4571/1.4571,BORO,A2,C-44
DIN28120/NP-125 NÄKÖLASI TÄY, 1.4571/1.4571,SODALIME,A2,C-44
DIN28120/NP-125 NÄKÖLASI TÄY, 1.4571/1.4571,BORO,A2,C-44
DIN28120/NP-150 NÄKÖLASI TÄY ,1.4571/1.4571,SODALIME,A2,C-44
DIN28120/NP-200 NÄKÖLASI TÄY, 1.4571/1.4571,SODALIME,A2,C-44
DIN28120/NP-200 NÄKÖLASI TÄY, 1.4571/1.4571,BORO,A2,C-44