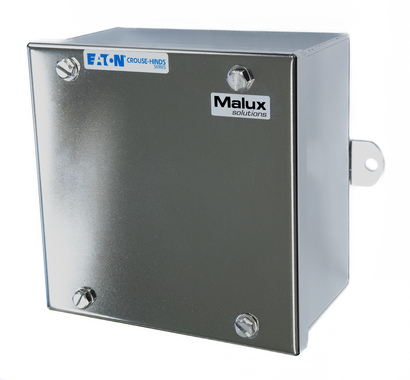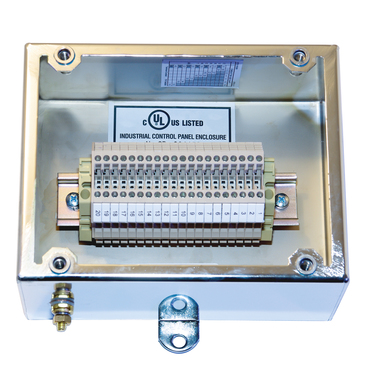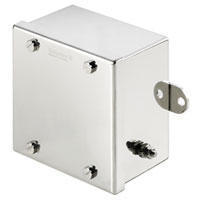 S-TB/STB Terminal strip enclosure ATEX/Industrial
The STB series includes 13 compact terminal strip enclosures of different sizes, which are easy to install and durable even under difficult conditions.
Fixed mounting lugs (no loose parts)
Dimensions: 13 pcs., see size options on the data sheet
Enclosure material: Acidproof steel 316L, electropolished
Cover screws and terminal strip rail: 316L acidproof steel
Terminal strip: With screw or spring connectors, Phoenix, Wago, Weidmuller
Use temperature: Furnished ATEX/IECEx , Ex II2G / 2D
T6: -40°C ? +40°C
T5: -55°C ? +55°C
Enclosure rating: IP66
International approvals, ATEX,IECEx,(TR-CU, cULus) etc.

STB is excellently suited for use as a compact connection box in diverse industrial sites.
Process /property electrical systems and automation.
Wood refining industry, chemical industry, oil refining/offshore, shipbuilding, other equipment manufacture.
Excellent choice for explosive atmospheres, gas Ex(G) and/or dust Ex(D). Zones 1 and 2 or 21 and 22.
Terminal strip enclosures for explosive atmospheres are delivered certified with terminal strips and leadthroughs. Applications Exe or Exi.
Can also be delivered as an industrial version (non ATEX).
All articles
+
Show all datafields
-
Hide datafield
| Choose amount | | | |
| --- | --- | --- | --- |
| | SFCH100801 | STB121208/2M20/7UT2,5+2UT6-PE 2GD Exe KALUSTETTUNA CERT [..] | Terminal boxes |
| Choose amount | | | |
| --- | --- | --- | --- |
| | SFCH100801 | STB121208/2M20/7UT2,5+2UT6-PE 2GD Exe KALUSTETTUNA CERT [..] | Terminal boxes |
STB121208/2M20/7UT2,5+2UT6-PE 2GD Exe KALUSTETTUNA CERT [..]
Type of product
Terminal boxes