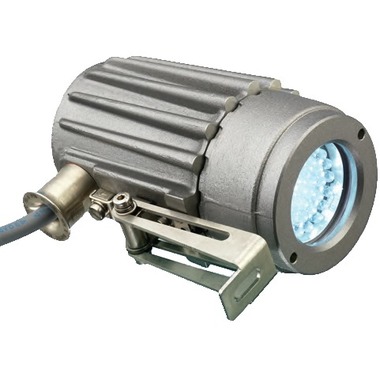 USL 05-Ex / USL 05-Ex-LED Sight glass/Spotlight ATEX
Compact universal spotlight with excellent lighting properties suitable for explosive atmospheres (ATEX).
USL05-Ex is excellently suited for use with DIN28120 (>DN40) sight glass assemblies and MV-series (>DN65) sight glass assemblies. Reliable choice for the chemical industry and other demanding applications.
Body: Aluminium
Foot mount *) : Stainless steel
Luminaire external diameter: Ø70mm
Light source: Halogen or LED
Enclosure rating: IP65
Temperature: permitted ambient temperature +60°C
Suitable for explosive atmospheres ATEX "Gas Ex or "Dust Ex"
*) Foot mount must be ordered separately
All articles
+
Show all datafields
-
Hide datafield
| Choose amount | | |
| --- | --- | --- |
| | PA354003300 | USL05-Ex 5W 230V/12V G4, 2m liitäntäjohto |
| | PA354005900 | USL05-LED-Ex 4W GZ10 230V, 2m liitäntäjohto |
| Choose amount | | |
| --- | --- | --- |
| | PA354003300 | USL05-Ex 5W 230V/12V G4, 2m liitäntäjohto |
| | PA354005900 | USL05-LED-Ex 4W GZ10 230V, 2m liitäntäjohto |
USL05-Ex 5W 230V/12V G4, 2m liitäntäjohto
USL05-LED-Ex 4W GZ10 230V, 2m liitäntäjohto